All Hands On: A Virtual Learning Lesson Prompts a Student to Give Thanks to Community Helpers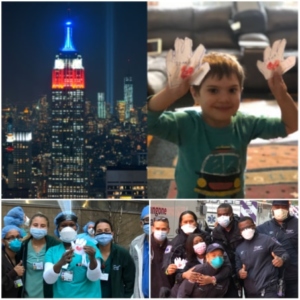 What better time than the present for a remote learning activity highlighting the importance of community helpers?
The New York State PreK Learning Standards encourage teachers and families to incorporate hands-on learning experiences regarding the roles and responsibilities of community workers and how we depend upon each other. Utilizing the "NYC Spring into Learning" guidance, Ms. Billie Garbade, a mentor-teacher in our Washington Heights Education Center, asked her students in Class 1 to identify a community helper and to create a "thank you" card for one of our essential worker heroes.
What happened after that was truly magical. Timothy, a 5 year old who will soon be graduating, took his assignment with great seriousness.  And with the help of his amazing parents, his card was delivered to the nurses, doctors and EMT staff serving our NYC community. Timothy, who entered our Birch program two years ago, has made phenomenal progress.  While once struggling with his language development, he now is fluent in both English and Russian, and happily on his way to regular kindergarten in the fall.
During these trying times, when teachers are tirelessly working to create meaningful remote opportunities and parents are called upon to become home-based teachers, it's amazing to reflect on the power of  all hands on!