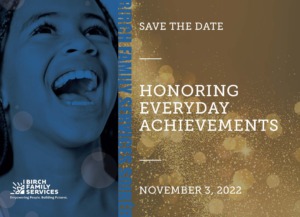 The Birch Family Services Soirée: Honoring Everyday Achievements will take place on November 3, 2022, at the Midtown Loft & Terrace in New York City. Join us in celebrating the accomplishments of Birch Family Services as we continue to meet the needs of individuals with developmental disabilities and autism in New York City.
Thursday, November 3, 2022
Midtown Loft & Terrace
267 Fifth Avenue
New York, NY 10016
6:00pm-9:00pm
Our Honorees
The Edith Glick Shoolman Children's Foundation
Birch Family Services Legacy Award
Lamb Insurance Services
Birch Family Services Corporate Vision Award
Assembly Member Michael R. Benedetto
Birch Family Services Legislative Advocate Award
Our Incredible Sponsors
Visionary
Lamb Insurance Services
Partners
Judge Brian Cogan & Ms. Robin Keller
Kimberly & Carl Hernas
George & Anitha Varughese
Pfizer, Inc.
Leaders
Matthew Sturiale
Judith and Robert Fullmer
Benefactors
The Family of Michael Brecher
Jay & Andrea Indyke
Dr. Ronald & Mrs. Jean Rawitt
TemPositions Health Care, Inc.