BIRCH@45 Campaign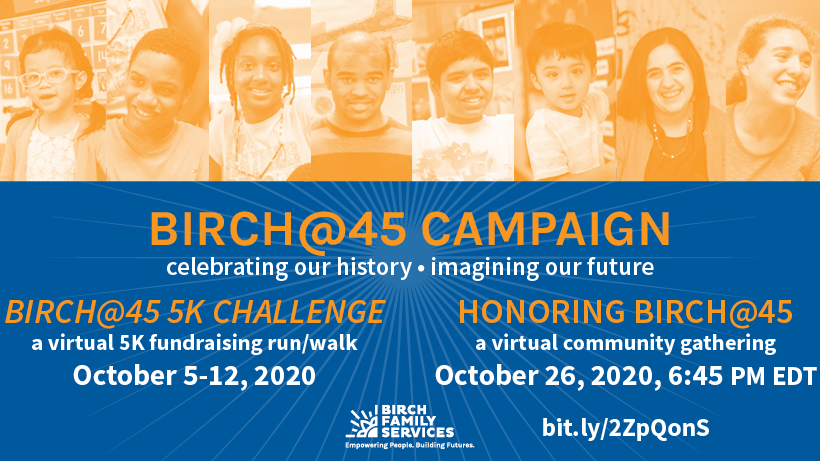 We're so excited to launch our BIRCH@45 Campaign, celebrating our 45 years of service to the community!
Even though we decided to postpone our Spring Gala and 5K Run/Walk – two of our key fundraising events – to help stop the spread of COVID-19, we couldn't let the virus have the last word. The BIRCH@45 Campaign was conceived to safely celebrate this milestone anniversary and help raise critical funds to continue supporting our mission of empowering individuals with autism and developmental disabilities to lead fulfilling lives.
First up is the BIRCH@45 5K CHALLENGE, a virtual run/walk, followed by the BIRCH@45 Finish Line Party, a post-race Zoom event for racers and their families.
The BIRCH@45 5K CHALLENGE is a fundraising run/walk taking place on October 5–12. Racers of all stripes are invited to join by participating in the walk/run and by creating a personal or team fundraising page.
We will celebrate racers and their families —and give out special awards—at the BIRCH@45 Finish Line Party, a Zoom event on October 15.
Registration is now open here, where you can also create your individual or team fundraising page.
Next up will be Celebrating Today, Building Tomorrow HONORING BIRCH@45, a virtual community event to raise awareness and funds for Birch Family Services on Monday, October 26, beginning with an e-reception at 6:45 PM EDT.
This virtual gathering of Birch supporters and families will mark this milestone anniversary. It will offer us a time to connect, share our stories, and recognize some of our champions, including Scott Simon, host of Weekend Edition on NPR, and long-time Birch supporters, Dr. Ronald & Jean Rawitt. 
Registration for this livestream event is free and open to all. Check out our event page for more details and stay tuned for more info.
We hope to see you at one, or both, of the events!