Birch Family Services Celebrates 45 Years of Service to the Community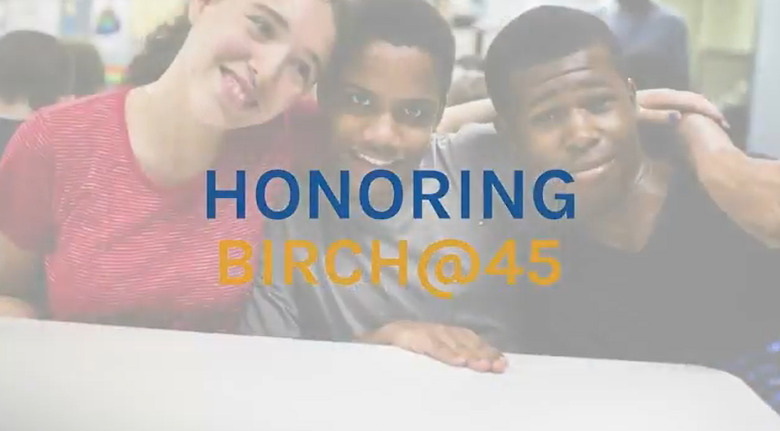 On October 26, 2020, Birch Family Services wrapped up its BIRCH@45 Campaign with a virtual gala: Celebrating Today, Building Tomorrow HONORING BIRCH@45. We exceeded our ambitious fundraising goals with the support of the entire Birch family, enabling us to continue to provide critical educational, employment, and community support services to people with autism and developmental disabilities.
During the gala, which marked our 45th Anniversary of service to the community, hundreds of families across the country joined us online as we honored Scott Simon, host of NPR's Weekend Edition and author of Sunnyside Plaza, with the Birch Family Services Voices of Hope Award for sharing how his experience working at a group home for people with disabilities when he was a teenager changed his life. We also honored our dear friends, Dr. Ronald and Jean Rawitt, with the Birch Family Services Legacy Award for their many years of service and support for Birch Family Services, including Jean's nearly 15 years of dedicated service on our Board of Directors.
Prior to the celebration, Governor Andrew Cuomo and Mayor Bill de Blasio both praised Birch for its vital role in improving the lives of thousands of people with developmental disabilities. In an official proclamation, Governor Cuomo said, "All New Yorkers are proud to join in saluting the organization and extend our gratitude for treating each person as an individual with their own unique abilities and helping them lead fulfilling lives no matter their pursuits."
Mayor Bill de Blasio issued a statement of support saying, "Together, we are forging a brighter, fairer and more inclusive future for all." Other elected officials including Senator Alexandria Ocasio-Cortez, New York State Senators Alessandra Biaggi and Robert Jackson, and Congresswoman Yvette Clarke also congratulated Birch on its historic milestone.
"Birch Family Services has been dedicated not only to fighting for the fundamental rights of people with developmental disabilities but also for their long-term educational, vocational, health, social, and emotional success and well-being," said Matt Sturiale, President & CEO. "We have been a pioneer in developing fully integrated support services that create access and provide opportunity for individuals with developmental disabilities to achieve their goals. But we couldn't accomplish a single thing we do without the support of our entire Birch community. Thank you to everyone for your support. You really do make a difference."
Additional highlights of the campaign included the BIRCH@45 5K CHALLENGE, a virtual run/walk, followed by the BIRCH@45 Finish Line Party, a post-race Zoom event for racers and their families.
Corporate sponsors of the events included Pfizer; Alliant Employee Benefits; G. Fazio Construction; G-Net Construction Corp.; Jackson Lewis; Lamb Insurance Services; Moritt Hock and Hamroff; The Omer Foundation; Province; The May Ellen and Gerald Ritter Foundation; TGI Office Automation; United Healthcare Oxford; Vassalotti Associates; Virtu Financial; and The Weeks Lerman Group LLC.
You can view the complete event below.