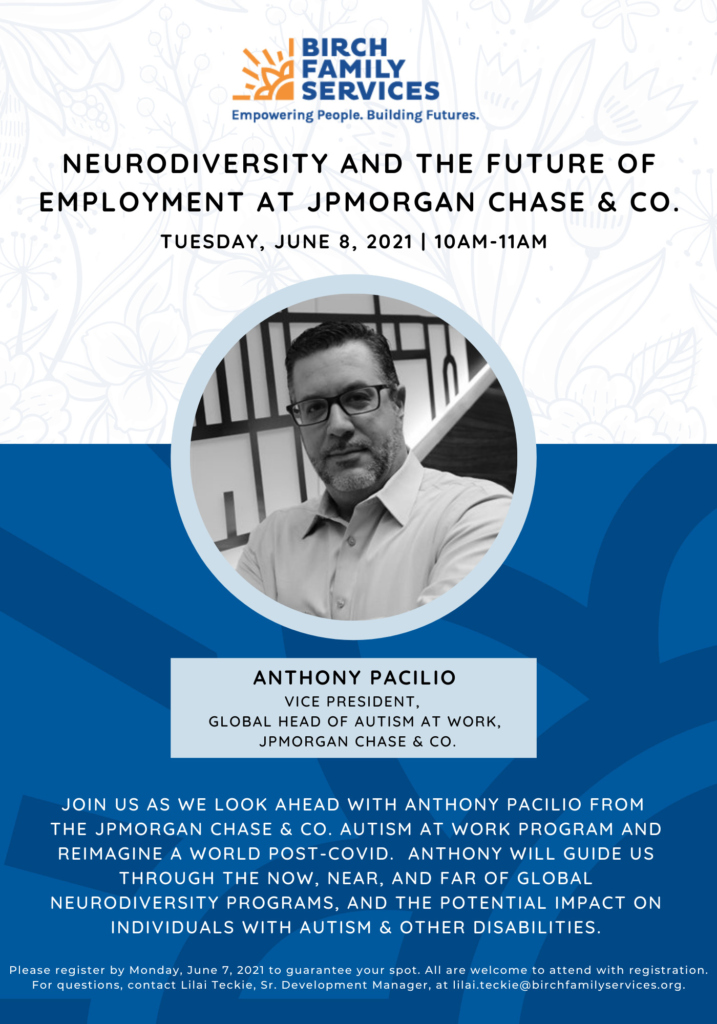 Birch Family Services is pleased to convene the next meeting of the Corporate Advisory Network on June 8 from 10:00 a.m. to 11:00 a.m. For this second virtual meeting of 2021, we are happy to welcome back Anthony Pacilio, Vice President of JPMorgan Chase & Co.'s global Autism at Work program. Anthony will speak on "Neurodiversity and the Future of Employment at JPMorgan Chase." Anthony's talk will focus on how the bank's Autism at Work program is looking forward and will focus on the "now, near, and far of neurodiversity programs globally" and will be followed by a Q&A session.
Additional presenters include:
Matt Sturiale, President & CEO of Birch Family Services, who will provide an update on the state of employment for people with autism and developmental disabilities at this stage of the pandemic as New York City and its businesses begin to reopen; and
Lisa Sterrantino, Director of Community Services and New Frontier; and Ludovica Alcorn, Employment Specialist Manager, New Frontier, who will update the network on how members of our employment and social skills development program are shaking off lockdown furloughs and layoffs and jumping feet first back into the job market!
To register for the event and receive a link to the Zoom meeting, you are invited to click the REGISTER NOW! button below. We hope to see you there!