Dave and Jason Find a Home at Home Depot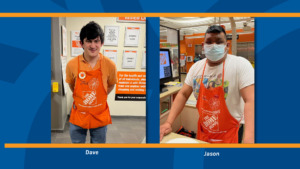 When Dave F. was searching for a new job, he looked to Birch's New Frontier program for help. However, he did not have to look for long thanks to a friend in the New Frontier program making strides at his current place of employment.  
New Frontier participant Jason M. has been working at Home Depot for the past year, where he has been recognized for his achievements and hard work. New Frontier helps transition-age young adults like Jason learn how to maximize their strengths to achieve their personal and career goals. Looking back, he remembers the guidance New Frontier provided in his search for employment and credits the ongoing support they provide him today for his motivation and mutual success with Home Depot.  
"When I heard I got the job, it was so relieving because job hunting was really hard," said Jason. "They make sure you are doing a great job and help you work together to achieve something higher."
Now, after earning the Employee of the Month award earlier this year, Jason is proud to have made a great name for himself at Home Depot.  
"Jason is really outgoing and has a great attention to detail," said Home Depot Associate Support Department Supervisor Esther Antwi. "Personally, I enjoy every conversation I have with him." 
His work and attitude helped show hiring managers at Home Depot the benefits of the New Frontier program and when they heard Dave was looking for employment as well, they quickly considered him for an open position. After interviewing and getting to know Dave, he received the news he landed the job and has been happily working at Home Depot since then.  
"It is going well," said Dave. "I stock the store and help and talk to customers."  
"Dave is such a team player and he's very open to whatever we are doing and that is really amazing," said Antwi. 
Dave is no stranger to New Frontier, having joined the program at its inception in 2013 and has been receiving ongoing support since then.  
"I joined New Frontier at the very beginning," he said. "It's a great program."  
With both participants enjoying their current positions, they were grateful for New Frontier's assistance in their search for employment and their continued experiences with the program. Part of New Frontier's services is to not only help participants find employment, but also continue their educational journey, develop the skills to maintain long-term employment, understand group and social dynamics and learn self-advocacy skills.
"New Frontier can always help you out and always have your back," said Jason. "New Frontier makes sure you advocate for yourself and makes sure that you are valid and recognized at your job."