From the Desk of Birch CEO Matt Sturiale: A Message of Appreciation for DSPs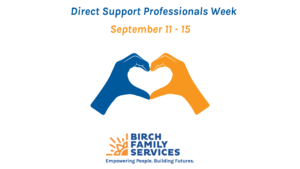 Monday, September 12, 2022
To All of Our Direct Support Professionals – Thank You for All that You Do!
This week is National Direct Support Professionals Week. It is a wonderful opportunity to highlight the dedicated, innovative direct support workforce that is the heart of our supports for individuals with autism and developmental disabilities. This week we celebrate our Community Services team acknowledging the critical work of these professionals, and the essential nature of their work. While initially established to recognize staff providing community support, we have many frontline staff on our Education team (i.e., TAs, 1:1s) doing similar work in our schools. Every day, our DSPs share their incredible talent and passion to enhance the lives of our individuals and their families by facilitating success in education, employment, and healthy, independent living.
I want to extend a heartfelt thank you for your extraordinary efforts in supporting our individuals and families—your work truly inspires me each day. Your unique profession is complex and goes beyond caregiving, whether you support individuals in learning life skills, helping ready them for the workforce and employment, or partnering with them to become productive members of their community. No matter what challenge you may face, you persevere and continue to embrace the opportunity to empower and enhance the quality of life for the people we support.
Over 40 years ago, I joined this social justice movement by partnering with individuals who have disabilities, their families, and agencies who support them, to advocate and ensure these individuals are empowered to lead happy, healthy, and dignified lives in their communities. Starting as a Direct Support Professional and through today, I want to ensure that those we support have a voice, have access to the same opportunities as anyone else, and could live the life they choose. This can only be accomplished with the support of our DSPs and all our frontline staff. Each day, your dedication and compassion with the children, adolescents, and adults we support create opportunities for individuals to thrive. This means the world to those we support and their families – THANK YOU!
Our work continues to evolve – how do we empower people to lead full lives at home, school, work, or their communities? How do we empower the people we support to take risks, to lead the lives they want? How do we support you in furthering our mission? We must remain committed to putting the people we support first, ensuring their voices, desires, and dreams are acknowledged, and that we strive to support our children and adults in achieving them.
Many of our programs have scheduled celebrations in the days ahead to express our appreciation for your commitment to Birch, the individuals, and families we support, and the team at your program. You'll be receiving additional messages from others throughout the organization. Finally, we look forward to sharing details about full department celebrations with our Community Services and Education staff during this fall and winter. We look forward to coming together collectively.
I hope you all have a wonderful week!
With respect and admiration,
Matthew Sturiale President & CEO