2019 DSP Recognition Week: Embracing the Core Competencies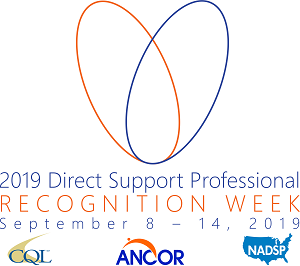 Mahatma Gandhi said, "The best way to find yourself is to lose yourself in the service of others." This is what a Direct Support Professional does every day. Every time you embrace one of the Core Competencies you are living your most authentic life by serving others.
You are Putting People First when you put your personal preferences aside to help a person we support do something he/she wants to do.
You are Building and Maintaining Positive Relationships every time you take a moment to listen to a person you support and understand their point of view.
You are Demonstrating Professionalism whenever you roll up your sleeves, jump in to help and go above and beyond the call of duty.
You are Supporting Good Health by taking time to understand each person's health, physical, and psychological needs.
You are Ensuring Safety every time you effectively carry out a person's plan of service.
You are Helping People to have a Satisfying Home Life whenever you encourage people to take pride in their home by completing household tasks, decorating and engaging in activities that they find comforting and enjoyable.
You are Assisting People to Be Active and Productive Members of their Community and of Society by encouraging participation in events and activities that are of interest.
Whether you support students in the classroom, help people develop employment skills at a volunteer or work sight or teach individuals to live happy, healthy and productive lives, you are doing the powerful and noble work of a Direct Support Professional. You help people to have a good day, you reassure concerned family members and you help those you support to grow and develop by providing safe and supportive environments.
Please continue to find yourself by losing yourself in the service of others. Thank you for being superheroes to the people you support, their families and your colleagues. The next time someone asks you what you do for a living, simply say, "I'm a Direct Support Professional, What's your Superpower?"
Be proud, enjoy your week and take a moment to partake in the activities designed to recognize your valuable contributions.
Bridget Waldron
Executive Vice President
Birch Family Services