Michael, the Budding Scientist
This school-age science leader helps younger classmates make the leap into the unknown.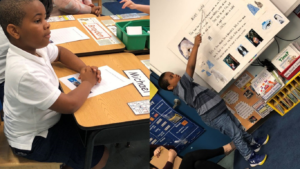 Meet Michael, a classroom leader on science projects at the Washington Heights Education Center, a Birch Family Services program that provides early childhood services for preschool and K-2 children with developmental delays as well as typically developing four year olds. In just a short year, and with the support of his team at WHEC, this budding scientist has come a long way.
Michael, who has autism, was enrolled in the Washington Heights school-age program in the spring of 2018. During the first few months of transition, his new team worked to determine an effective intervention plan to understand and strategically incorporate the triggers that impacted his focus and classroom performance. The development of a behavior support system that Michael found motivating seemed to enhance his confidence as evident in his class performance. Now, he leads science projects like presenting on the similarities and differences between polar bears and penguins, and helps out with his younger classmates as they learn to work together and focus on classroom activities.
"Our school is forever changed because of his wonderful contributions to our classroom," said Michael's teacher, Cristie Scott.
In addition to an intensive, language-rich special education program, students at the Washington Heights Education Center may also receive additional related services, including speech therapy, occupational therapy, physical therapy, and counseling.
"Our school is forever changed because of his wonderful contributions to our classroom," said Michael's teacher, Cristie Scott.
Helping Transition-Age Youth Navigate Their Future
Birch Family Services supports students throughout their education journey – from enrollment in preschool, to their transition into a school-age program. We encourage parent advocacy as children attain milestones. Birch's school-age programs are designed to meet the individual educational needs of students who are referred by the New York City (NYC) Department of Education (DOE). Students and families participating in our school-age program receive assistance with developing a transition plan for success in graduating from high school and obtaining lifelong occupational and vocational roles.
Our school-age program focuses on the development of students' abilities and uses a strengths-based approach in a supportive environment. The program provides families with the tools and strategies necessary for them to best advocate for their children as they transition through school to adult life.