Neurodiversity and the Future of Work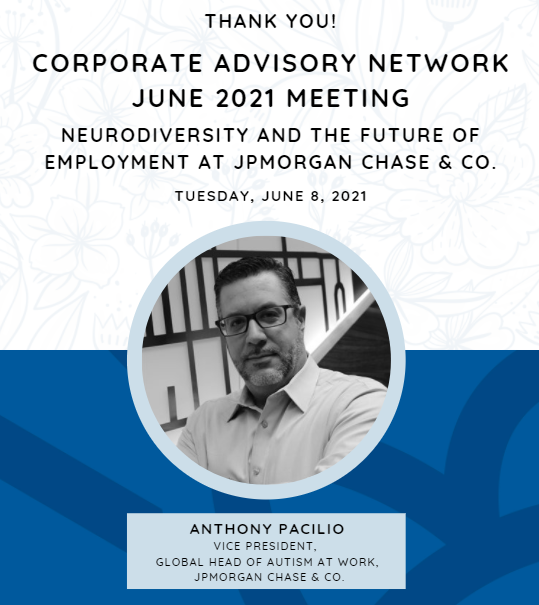 In June, Birch Family Services held the second meeting of the Corporate Advisory Network for 2021, which focused on "Neurodiversity and the Future of Work."
Birch CEO Matt Sturiale kicked off the meeting with an update on how the organization is "bouncing back" from the challenges presented by the pandemic. While we've seen a drop in enrollment in our preschool and school-age programs due to the pandemic, Matt expressed optimism that this would turn around as our schools move from a hybrid model of instruction to full, 5-day weeks of in-school learning. As New York City continues to reopen, the people who live in our residences and participate in our Day Programs are getting out again and finding more opportunities to interact within their communities, and participants in our New Frontier program are getting back to work after pandemic-related furloughs and layoffs.
Birch was also pleased to host our guest speaker Anthony Pacilio, Vice President and Global Head of JPMorgan Chase & Co.'s Autism at Work program. Anthony shared how Autism at Work is currently looking forward, with a focus on the Now, Near, and Far of global neurodiversity programs. Anthony provided attendees with tangible examples of how the Autism at Work program is adjusting to the quickly evolving challenges and opportunities that have come with the pandemic, including the desire of many employees on the spectrum to continue working from home and the anxiety of returning to the workplace. According to Anthony, JPMC is listening to its employees and taking their concerns into consideration. For instance, as many autistic employees have performed well or better at home, JPMC is considering accommodating those whose physical presence in the office isn't necessary to perform their job functions with remote work.
"We as employers need to ensure that we include everybody into the hiring process, even if that means making a reasonable accommodation for someone to get them through the door. That's just what we need to do," says Anthony. "So many people opting out of jobs because they look at job descriptions, which are three pages long with all this junk on them like Basket Weaving 101. As soon as someone on the spectrum looks at that they say, 'Well, I don't have that ability,' and they opt out. We've got to change that."
Following Anthony's presentation, Ludovica Alcorn, Employment Specialist Manager, New Frontier, provided an update on how members of our employment and social skills development program are shaking off lockdown furloughs and layoffs and jumping back into the job market. Through the connections made in this network the program continues to help members of the program secure meaningful employment opportunities and increase independence, as well as support our corporate partners to build and sustain inclusive and accessible workplaces.
The meeting was attended by over 65 representatives from more than 20 progressive companies from a range of industries, including finance, technology, healthcare and human resources, as well as city government and the nonprofit sector. Click the box below to learn more about the Corporate Advisory Network and how you can get involved.