Operation: Hero Banner Express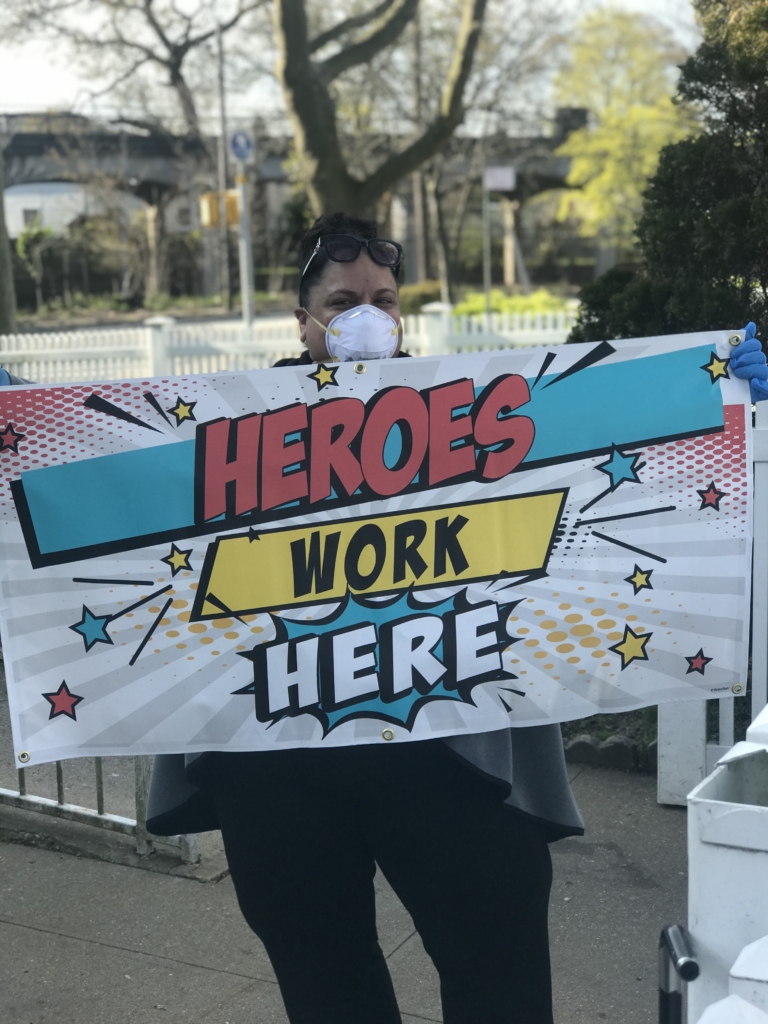 "It was a truly moving and uplifting experience," said Birch Executive Vice President Bridget Waldron. "The staff that support our individuals day in and day out are truly remarkable. Some superheroes wear capes, our superheroes wear PPE!" 
Last Tuesday and early Monday mornings, a secret contingent of Birch Family Services volunteers fanned out across the New York City and surprised our direct support professionals and residential staff with bright and colorful "Heroes Work Here" banners outside Birch residences in Manhattan, Brooklyn, Queens, and the Bronx. The idea behind "Operation Hero Banner Express" was to show their gratitude for the truly heroic work our DSPs and residential staff have been doing since the very start of the COVID-19 pandemic. And we're happy to report that it was a success! 
Outside of each residence, someone held the banner, another rang the bell and as soon as staff and the people we support answered the door, volunteers began clapping, whooping, cheering and yelling, "Thank, you!" They blasted "Hero" songs — most notably Mariah Carey's Hero — and everyone sang along right outside. While some were affectionately advised to "Keep their Day Jobs!", it was all in good fun and contributed to an uplifting spirit and celebration. As songs were played and everyone sang along, staff and the people we support danced. Those who wanted to join in outside did and others who wished to remain indoors, waved from the windows.  
 At each house, resident coordinators expressed their heart felt appreciation for the staff, followed by cheers from the volunteers. Many gathered for a photo op with the banners. Some took the opportunity to show off the beautiful gardens that have been planted by staff and people supported. Handmade fabric masks that had been donated to Birch were also handed out to everyone. The patterns were bright, colorful and beautiful, just like our staff and the individuals they support. 
 Many didn't want the party to end so everyone stayed longer, enjoying the opportunity to come together in celebration of staff, people we support and others before the Hero Banner Express had to move on to the next residence. 
 "It was a truly moving and uplifting experience," said Birch Executive Vice President Bridget Waldron. "The staff that support our individuals day in and day out are truly remarkable. Some superheroes wear capes, our superheroes wear PPE!" 
 A very special "Thank You" to the volunteers who pulled this all together, including Anna Sheehy, James Sherry, Margaret Chiara, Denis Rosenberg, Juno Greaves, Charmane Wong, Henry Arukwe, PeterGaye Powell, Sandra Austin, Gareth Davis, Lisa Sterrantino, and Bridget Waldron!