Phyllis L. Susser School Students Sell Sweet Treats in Support of Ukraine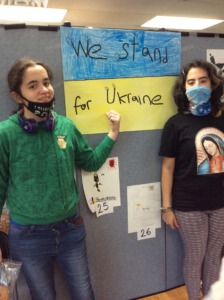 Two Phyllis L. Susser School students show their support in front of the Ukrainian flag that they made. 
When classroom 202 at our Phyllis L. Susser School for Exceptional Children heard about what was happening in Ukraine, they knew they had to do something to help. Taking a break from their studies, the students came together to think of a way to raise money for those in need. And what better way to raise money and have some fun doing it than a bake sale!  
Classroom 202 held their school fundraiser this April, selling homemade baked goods and handmade bracelets among their fellow students. The fundraiser resulted in over $200 in sales, with all the proceeds being donated to Razom, a nonprofit organization dedicated to supporting the people of Ukraine. Students in the class thought it was a wonderful way to aid the humanitarian effort in Ukraine and spread awareness of the situation.  
"We donated it all to Ukraine, I did the cupcakes and the doughnuts," said student Ethan. "It felt awesome, it was really a perfect day." 
"It felt great, it was amazing," added student Michael.  
Class 202 teacher Ida Ross said the effort was sparked and spearheaded by the students themselves while she handled donating the money to Razom.
"Our class really ran it themselves," said Ross. "They had all these different stations and sold the baked goods to the other students in the building," 
Of course, many of the students in classroom 202 also sampled their classmate's treats—although some had to abstain.  
"I couldn't eat the cupcakes because I'm allergic and I have to be safe," said student Michael.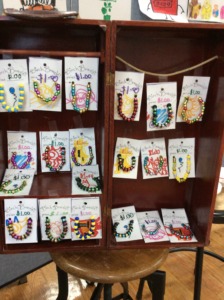 Bracelets made by Phyllis L. Susser School students to sell to their fellow classmates in support of Ukraine.