Birch Family Services Holds Understanding Autism Workshops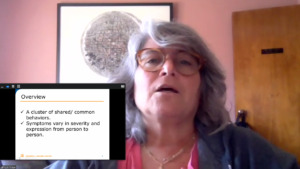 Coordinator of Autism Services Lori Volpe, Ph.D., presents during an Understanding Autism Workshop.
For Autism Awareness and Acceptance Month, Birch Family Services hosted a series of free educational workshops that fostered an environment promoting knowledge, inclusion, and acceptance of autism and individuals on the autism spectrum.  
Our Understanding Autism Workshops invited anyone who wished to learn more about autism and those on the autism spectrum to further their knowledge and resources through a presentation and discussion. Led by Coordinator of Autism Services Lori Volpe, Ph.D., the workshops also provided educational material on how best to support people on the autism spectrum on a day-to-day basis.  
"There's a lot of mythology out there and that is the part that damages the people we are supporting and what I am trying to dispel," said Dr. Volpe. "I think this month is an opportunity because it is being highlighted in people's minds and we can put more information out there, but we do these throughout the year to educate more people." 
 We also held a workshop covering the many benefits of inclusive hiring and how best to accommodate autistic professionals in the workplace. Our Autism in the Workplace discussions centered around how those on the autism spectrum are largely discounted as a potential source of highly skilled employees. Participants were able to learn the advantages of hiring an individual on the autism spectrum as well as best practices to support them within their organization. 
"The big push I always make in my presentations is that what is different is just different, not wrong," said Dr. Volpe. "We all have strengths and weaknesses and, in terms of supporting individuals and getting them employed, we need to understand who these individuals are and the skills they bring to the corporation." 
Our next Understanding Autism Workshop will be held Wednesday, May 18 at 5:30 p.m., you can find the details here.