Join Our #GivingTuesdayNow Challenge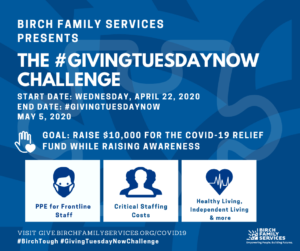 April is Autism Awareness Month. As we enter the last two weeks of this annual event designated to promote awareness of autism spectrum disorders (ASD) and celebrate inclusion and self-determination of people on the spectrum, we'd like your help with ending it with a bang!
Our #GivingTuesdayNow Challenge begins today, April 22, 2020, and will end on May 5, 2020, on #GivingTuesdayNow. The goal of the Challenge is to help raise awareness and critical funds necessary to support individuals with autism and developmental disabilities during the COVID-19 pandemic. So far we've raised almost $10,000 of our $20,000 fundraising needed to ensure that our frontline residential staff have the support they need to remain safe as they provide around-the -clock services for some of the city's most vulnerable people living in our group homes. But we still need your help!
There are two ways to participate in the #GivingTuesdayNow Challenge*:
1) 5 for 5 Challenge: Donate $5 or more to the COVID-19 campaign then take a photo of yourself with your 5 fingers up challenging 5 friends to participate. You nominate or challenge friends by tagging them in your post. Be sure to tag Birch Family Services for a chance to be reposted.
2) Blue Photo Challenge: Take a selfie of you and/or your loved ones wearing blue in support of people on the autism spectrum and be sure to tag Birch Family Services. At the end of each day, Birch will repost your photos to their social media channels. Tag and nominate your friends and family to participate.
*To participate, you can do one challenge separately or both together.