Notes from the COVID-19 Frontlines: Birch's East 45th Street Residence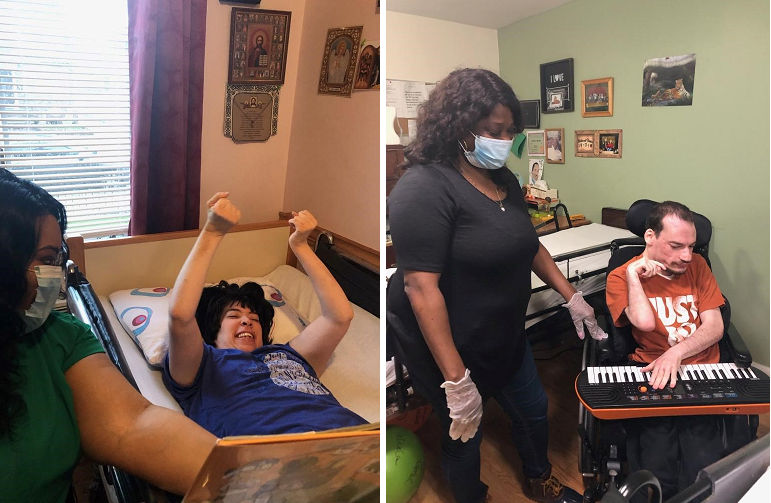 "I salute the team at East 45th Street because they are the true heroes." — Arlene Evans, Residence Manager, 45th Street Residence
Initially when it was reported that the coronavirus was on the rise, we were told to take precautionary measures – washing our hands, wiping down surfaces, and asking visitors about where they've been and if they've been exposed to any sick people . But, when Birch locked down the programs in mid-March, I immediately contacted the parents of the individuals we support at the residence and told them not to visit or send other loved ones to the program.
As the days progressed and the virus spread across the city, a number of the staff and individuals started developing symptoms and some staff called out from work in order to protect themselves and the people we support. But as the team worked together, I noticed a growing force from within each member. Staff members called to check in on one another and their families to make sure everyone was safe. They never showed any fear or doubt about what their mission as Birch employees was.  Staff joined together as one and continued to provide the quality of care we always do. Each day, they come to work and suit up for the unexpected.
Their tireless efforts do not go unnoticed. The individuals they support here are excited when staff come to work and carry on as usual, without thinking about the virus. They just do the jobs expected of them when they signed up for this line of work.  Every day, staff stick to the daily routine they normally would: ensuring the house is clean and that the individuals we support are safe and are engaged in their daily activities. Staff are always searching online for different activities for them to do, to continuously keep them stimulated.
I could go on about the gratitude the parents and I feel towards each and every member of this team. I salute the team at East 45th Street because they are the true heroes. Each day I appreciate the fact they leave their families to ensure the needs of the individuals they support are met without a second thought. There could not be a better team of staff members, RNs, and QDIP to pull this off.
They are the real frontline heroes who arm their hearts against COVID-19.  YOU will not win, COVID-19. With faith, kindness, and perseverance, we will win this fight! Go Team East 45th Street, for you are true warriors in this fight!
— Arlene Evans
Residence Manager
East 45th Street Residence
Birch Family Services