Together — We Are Strong and We Are Better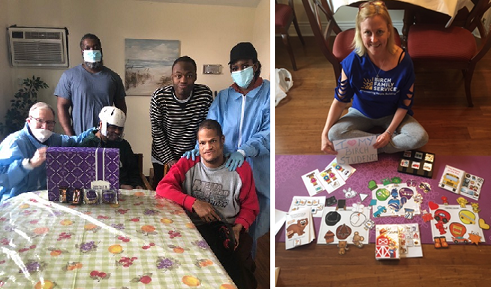 Things are changing rapidly in this environment, so we would like to take this opportunity to update the Birch Family Services community on how we have been impacted and how we are responding to the COVID-19 pandemic.
COMMUNITY SERVICES
Birch Family Services Direct Support Professionals (DSPs) continue to work around the clock to provide safety and support for 126 individuals with autism and other developmental disabilities living in our residences. Since the outbreak, nine individuals living in Birch residences have received positive diagnoses, including one person who, sadly, passed away due to health complications related to the virus. Meanwhile, whether having received a diagnosis or exhibiting symptoms, several of our individuals have required support through the implementation of isolation protocols, and all have needed to adapt to social distancing, increased handwashing and other preventative measures within their homes. Our frontline staff are the true heroes putting the needs of our individuals ahead of their own. They have worked tirelessly to provide support in this extremely difficult time. We are happy to report that many individuals are recovering. Several have returned from the hospital, but some have required temporary placement in a rehabilitation facility until they are strong enough to return to their homes.
Acquiring necessary supplies such as personal protective equipment (PPE) — masks, gloves, hand sanitizer, etc. — remains a challenge and our team has been working with other partners to ensure adequate resources for our individuals and staff. Recruitment of qualified staff in direct support or clinical roles has always been challenging — even more so during this health crisis. We continue to recruit and have streamlined our on-boarding processes for interested and qualified candidates. However, we are one team supporting each other. When leadership announced a call for assistance from other departments, it wasn't surprising that a number of teaching and nursing staff from our Education division stepped in to lend a hand — some to work directly with individuals receiving services; nurses providing additional clinical support; some to relieve staff from completing other burdensome household responsibilities such as cooking, cleaning, doing laundry etc.; and still others to engage individuals in activities such as painting, playing games, gardening, and singing and dancing. In addition, our day habilitation staff have been supporting individuals in our residences as well as supporting those individuals and families in the community.
NEW FRONTIER
In the interest of safety, we have temporarily paused all face-to-face and group employment training and social gatherings related to our New Frontier program, which provides employment-related training and social development opportunities for people with autism and other developmental disabilities. However, New Frontier staff continue to support current workshop members to provide counseling and work through subject material. Staff is set-up to provide quality, remote supports via different technological platforms — phone, email, and video-chat — while concerns related to the pandemic are addressed. In addition, staff remain in regular contact with the program members, their families, and their support networks to provide consistent updates and encouragement.
EDUCATION
Even though our school buildings have been temporarily closed since March, thanks to the extraordinary efforts of our teachers, teaching assistants, related services staff, and leadership, students can still look forward to seeing and hearing their teachers and therapists each morning, from the safety of their computer screens. From the beginning of this pandemic, our staff were pulling together resources to support families at home and drawing up virtual learning plans for our preschool and school-age students to get back to "normal" as quickly as possible. In addition, with the help of our extremely busy IT Department, students will be logging on to Google's G Suite next week for some real-time class work with their teachers.
WE NEED YOUR HELP
Thanks to our staff, our programs continue to strive towards excellence in our services and the supportive environment we provide for this vulnerable population. The extraordinary work of our staff and the resources necessary to support our work is significant. Our additional costs associated with all that we're doing exceeds anything we ever anticipated. Now more than ever we need your support. Please consider making a donation today.